Welcome
Paul Henry is the author of nine books of verse. Originally a songwriter, he's performed his poems and songs at literary and music festivals in Europe, Asia and the USA. His work has been widely anthologized and translated. He's also written and presented arts programmes for BBC Radio Wales, Radio 3 and Radio 4.

A popular Creative Writing tutor, working with universities, schools and writing centres, Paul has mentored many poets over the years. Feel free to enquire about on-line mentoring via the Contact page.

---
Interview with Poetry Wales here
TLS Poem of the Week: 'Chattels'
'Notes of Solidarity' Wales Arts Review
11th - 15th March 2024: Tŷ Newydd Writing Centre, Gwynedd: 'Poetry and Songwriting' course. Co-tutor: Brian Briggs. Click here for details/bookings.
14th - 19th October 2024: Garsdale Retreat, Yorkshire Dales: 'Writing Poetry' course. Guest reader: Stephen Knight. Click here for details/bookings.
A song version of the poem 'Kicking the Stone', co-written with Brian Briggs, can be heard on 'Stornoway's' new album 'Dig The Mountain!' released October '23. The original poem appears in Paul's collection 'Boy Running'.
22nd November: 'The Singing Page' online Poetry workshop - The Poetry Business; 11am - 12.30 GMT. Click here for details and tickets.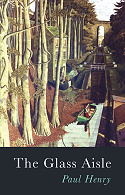 The Glass Aisle

"This haunting, elegiac collection, about music, and made of music, leaves a reader's mind full of phrases, in both senses - verbal, and tonal - and exactitudes that catch the heart and lodge in the memory" Gillian Clarke

"In this virtuoso new collection, Paul Henry, poacher-like, tracks the journeys of the heart through landscape, love and loss. He takes his place as one of the most important Welsh poets now writing." Carol Ann Duffy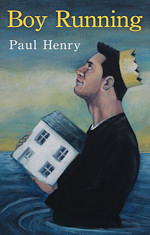 "An obsessive look at time and all the loss it carries... Henry's rich, wise and regretful poems should be better known than they are and this is a good place to begin." The TLS

"Henry is working at the core of lyric poetry, with love and loss and the 'deeper river'." The Poetry Review

Boy Running - shortlisted for Wales Book of the Year 2016.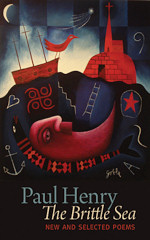 The Brittle Sea: New & Selected Poems.
reprinted 2013, 2016.

"The Brittle Sea spans a sleek twenty years. Gesturing equally backwards and forwards, it marks Henry's quiet rise as a major lyric poet while whetting the appetite for what is sure to be a very rich later career..."
- 'Poetry Review'
www.serenbooks.com/book/the-brittle-sea